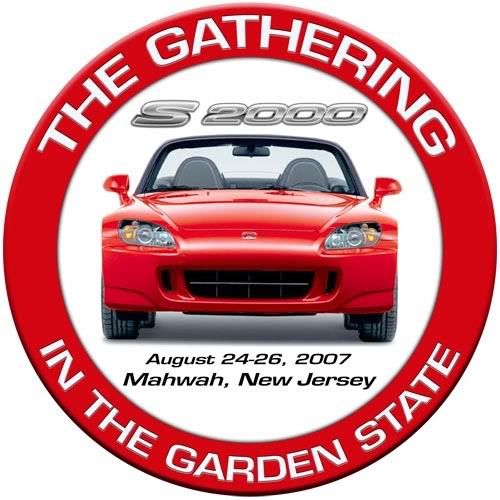 This is now the official thread for this event.
New Jersey is the home state to the most superfund toxic waste sites in the nation. Our rivers are polluted, our roads are congested, our cities are run down, crime is everywhere and corruption is rampant. New Jersey is also the most magnificent state in the nation. Ed (emg88), Ellen (Tadashi), myself in conjunction with the North East Region of S2CKA would like to show it to you. We in the newly energized North East Region are proud to present "The Gathering in the Garden State".
This meet is scheduled for Friday August 24th to Sunday August 26th, and will not conflict with any other meet. It will be headquartered in beautiful Northern New Jersey.
Sign up for the Friday night pizza here
https://www.s2kca.com/S2000/showthre...eferrerid=6362
Hotel Information
Thanks to Ed (emg88) we now have our hotel in place. We will be headquartered in beautiful Mahwah, New Jersey at the
Sheraton Mahwah Hotel
1 International Boulevard
Mahwah, New Jersey, United States
Phone (201) 529-1660 • Fax (201) 529-4709
Located in Northern Bergen County, Sheraton Mahwah Hotel is just 40 minutes outside New York City and Newark International Airport. We are convenient to Interstate 287, Route 17, and the New York State Thruway, giving you quick and easy to access to the surrounding...
Book Now!!
This event is limited to 75 rooms
We were able to get a great rate for such a beautiful Hotel @ $129.00 per night
We have provided a purpose built and personalized Web site just for the S2000 CLUB OF AMERICA to make your Hotel reservations. occurring
August 23, 2007 - August 25, 2007 Check out on the 26th.
For those that are traveling the rate has been extended to include Aug. 23, 2007 (Thur.) for early arrivals.
Guests can access the site to learn more about the event and to book a reservation from November 03, 2006 to August 26, 2007
Access to the site can be obtained by going to
link below:
Attendee
HONDA CLUB OF AMERICA (click here or cut/paste the following into a browser)
http://www.starwoodmeeting.com/StarG...5055&key=C5DFD
Please post your confirmed reservations-who and how many, plus the nights you will be staying in this thread.
Among the activities being planned is a drive through New Jersey and New York, a dinner/celebration and a great deal of fun. If you've heard about "The Gathering at Gettysburg" that I recently organized, you'll know how I like to do meets. I assure you that you will enjoy every minute of this one.
I have taken the liberty of inviting my friends from the Vintage Forum and my friends from NES2KO (New England S2000 Owners). For the first time the fine members of S2KCA will have the opportunity to meet, socialize with and drive along side the fine menbers of Vintage and NES2KO.
It promises to be a great meet. I hope to see you all there.
Attendees
emg88+1 (Ed & Joann)
ralper+1 (Rob & Liz)
kgf3076+1 (Ken & Yoon-Hee)
Jays2k+1 (Jay & Lauren)
My_yella_s2K+1 (Mike & Cindy)
EricM+1 (Eric & Ginny)
Geras003+1 (Aleksey & Ulysses)
Eclat520 (Tom)
Rvenom+1 (Brian & Melissa)
JasonS2000 (Jason)
Matt_in_VA+1 (Matt & Barbara)
Emil St_Hillare+1 (Emil & Renee)
Kyras (Patricia)
Trapper+1 (Paul & Barbara)
Ruined 2 (Phil)
Goblues2k+1 (Dennis & Sue)
Sailor1533+1 (Terry & Marcy)
SSSnakeSSS+1 (Robert & Connie)
Tadashi+1 (Ellen & Joe)
Desmo4 (Jonathan)
Repiv (Dave)
Rjcjr0823 (Robert)
Photodavo (Dave)
Jukengene+1 (Gene & Bea)
Rick Hesel (Rick)
Bobushka
Calbear
Nate03 (Joel)
S2KNJ
RunUrAss
Grunts2k (Dave)
Orangebarius
8kgoodenuff (Andre)
Hiper (Anuj)
Len44 (Len & Pam)
BearNVA (Bill)
Justin6264 (Justin & Chelle)
Java_Junky+1 (Jack & Marie)
MikeSchunk (Mike)
Starbrd (Herman)
S2KBilly (Billy & Diane)
sshim35563
S2K KiDD
SLickRick2
trich1687