We had never spent much time on the Olympic Peninsula and there were places we had never seen, so we did a three day tour.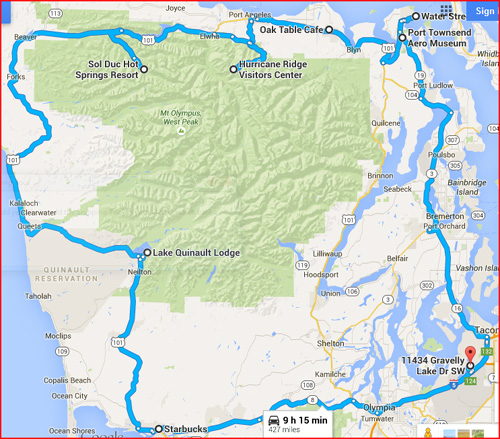 Our first night was in Port Townsend. On the way there we stopped at the Aero Museum - a collection of older small airplanes housed indoors. It's a great little museum.
Note the wicker seats. We stayed in the Waterstreet Hotel; a funky old place where we had stayed previously. Dinner was at the Silverwater Cafe where we had eaten before. It is VERY good.
The next morning we drove to Sequim and had a late breakfast with friends. For you Washington people - if Sequim is pronounced Skwim why is Sekiu not pronounced Skew?
We continued on to Hurricane Ridge - one of the places we had never been before. The weather was spectacular and the view is stunning.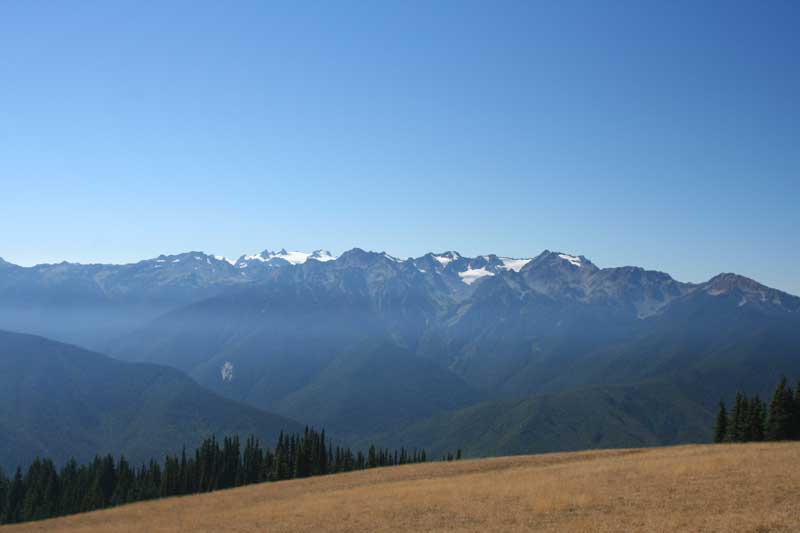 Our second night out was at Sol Duc Hot Springs Resort and frankly it was a big disappointment. What else can you say about a place that spendy that continues to use towels that are stained or threadbare? We had a very pleasant soak in the hot pool but dinner and breakfast in the restaurant were dreadful. Mel's Trip Advisor review is NOT going to be very flattering. I did get a shot of Maria outside the cabins.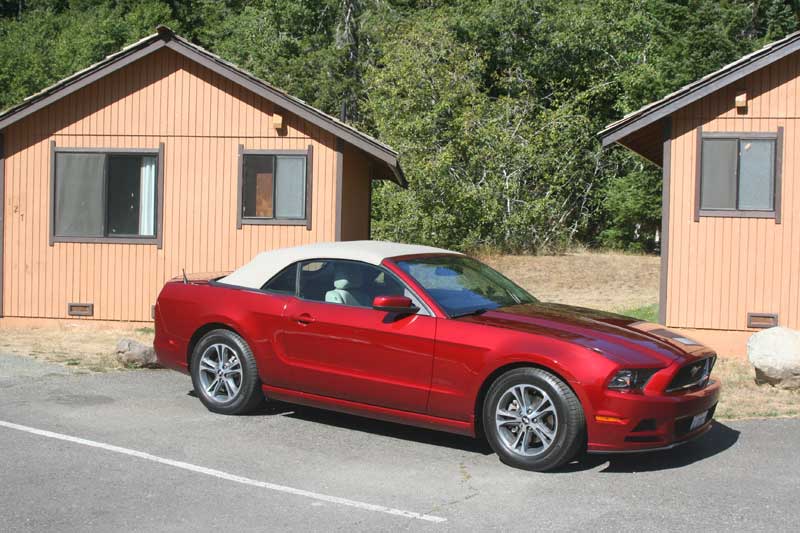 Our final night out was to be as Lake Quinault Lodge. We hustled down there and had a quick lunch, then drove to the National Park Ranger Station on North Shore Road. We arrived in time to go on a nature walk with the ranger in the rain forest. Very interesting! Ground cover in a temperate rain forest is so dense that seeds and cones that fall to the forest floor can't get to soil. They only germinate when they fall onto a stump or downed log that has moss on it. These are called nurse stumps and nurse logs. The new tree must then extend its roots down into the soil or it will not survive. Eventually the nurse rots away and leaves a cavity under the tree that formed on it.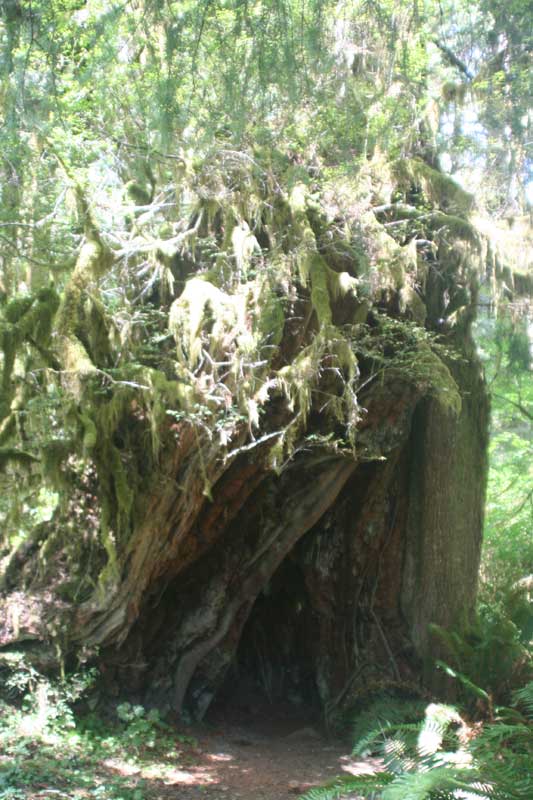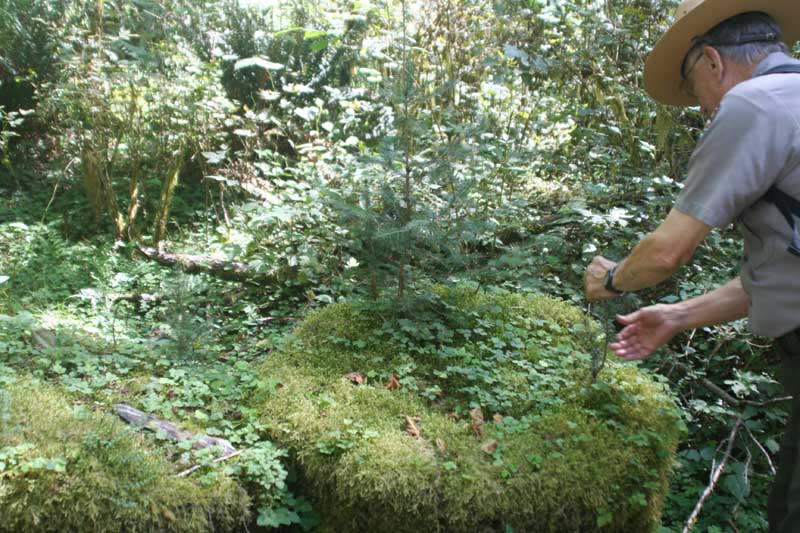 Some of the trees have parasitic growths on them called Conchs. They 'bore' into the tree and will eventually cause it to rot from the inside.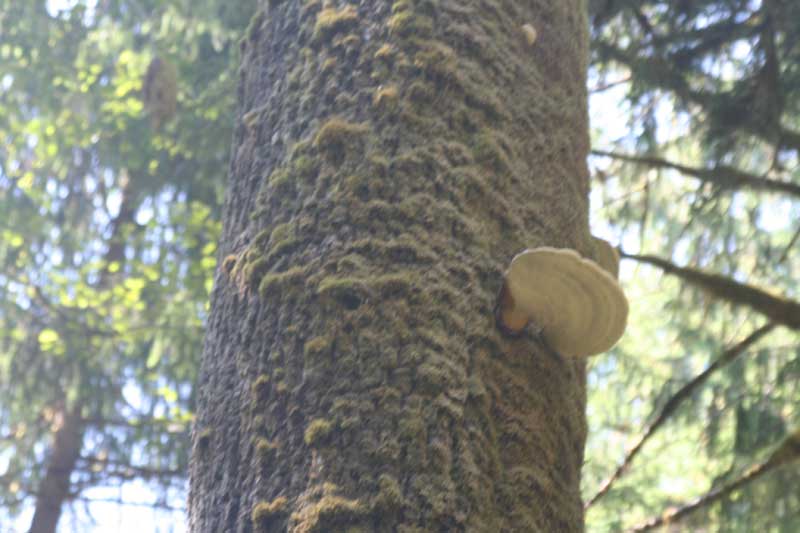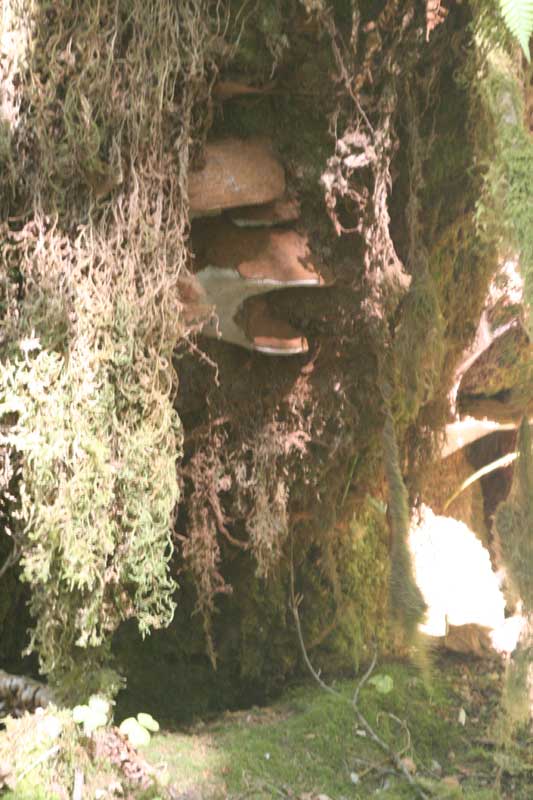 There are a variety of ferns including this one that is very dense and low-growing.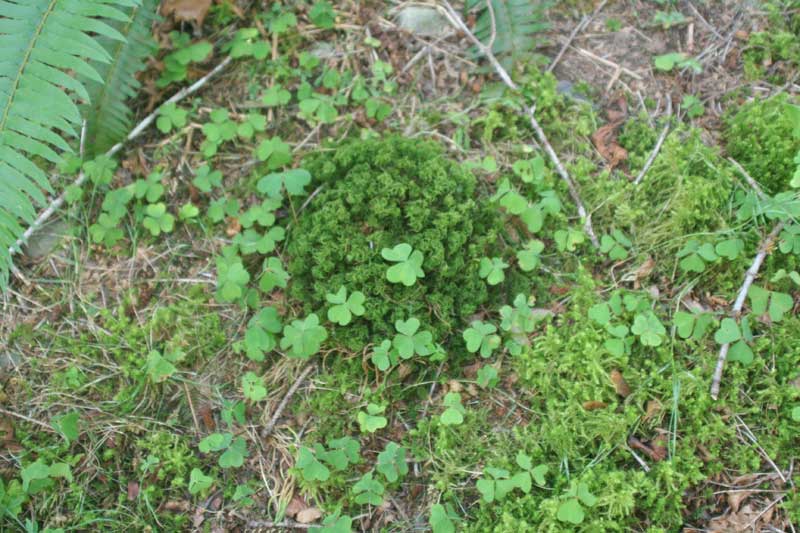 One of the denizens of the rain forest is the Douglas Squirrel. He is smaller then the gray squirrels many of us see in our gardens and is brown. He loves Spruce cones and goes up in the trees to cut them loose. Then he gathers them from the forest floor and stashes them away. When he is ready for a meal he holds the cone upright in his front paws and, using those marvelous front teeth, he peels away a scale from the cone and eats the seed and spits out the scale. When he is finished he leaves behind a pile of cone scales and the central part of the cone that looks like a tiny corn cob.
After the walk we returned to Lake Quinault Lodge and went for a swim in their indoor pool before having a very nice dinner in their restaurant. All in all it was a very pleasant way to spend three days and see some wonderful scenery.